To ignite a SPARK that propels students to endless possibilities for their future. Mississippi State presents an expansive leadership conference designed to assist underrepresented rising seniors in laying the foundation for their future. Our goal is to introduce students to numerous avenues for life after high school while also serving as a vessel for self-exploration, self-discovery, growth and development for each conference attendee.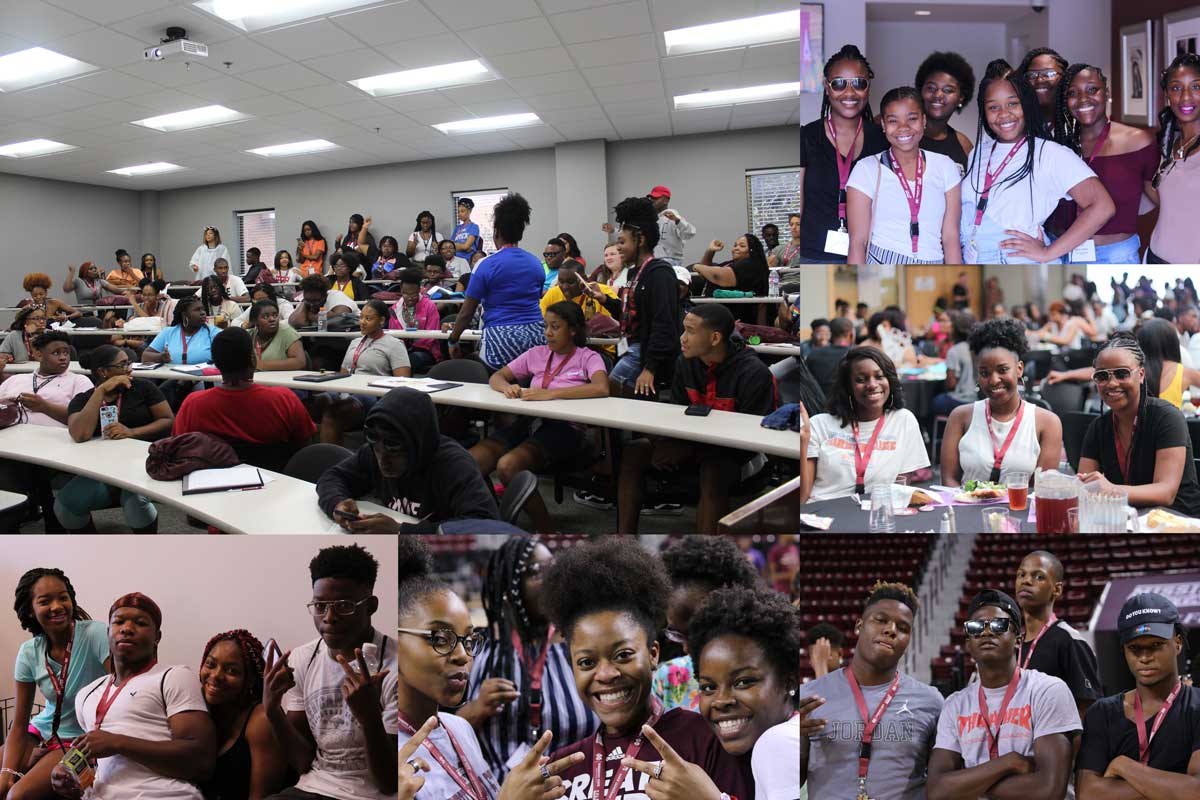 Why should students attend S.P.A.R.K?
Students can gain a better understanding of the numerous options available to them in life after graduating high school.
What things will students learn at S.P.A.R.K?
Students will learn about and discuss necessary life skills, topics involved in social awareness, the process of college admissions, and financial aid opportunities.
How can S.P.A.R.K positively impact students?
S.P.A.R.K is a perfect gateway to help students develop into young leaders and make decisions to benefit their potential future.
What kinds of activities will be at S.P.A.R.K?
S.P.A.R.K will engage students in activities that test the knowledge they've learned throughout the conference, network with professionals in many different careers, and hear from keynote speakers who will motivate and encourage students to reach their full potential. 
S.P.A.R.K.

Frequently Asked Questions
Questions
---
Am I required to stay for the entire conference?
Yes. It is mandatory for all camp attendees to participate in all conference activities. Students will be staying in one of our residence halls on campus at Mississippi State University. If for some reason you are unable to fully participate or attend all events, please contact us at spark@msstate.edu.
Can I bring someone to the conference who is not registered / Can my parents attend?
Only registered and confirmed participants are allowed to participate. We will not accommodate registration at check-in due to pre ordered resources and material. There will be a concluding banquet that is open to parent(s)/guardian(s) on Sunday. Information regarding the time and location will be sent once the student has applied and his/her attendance is confirmed.
How do I register for the S.P.A.R.K. Leadership Conference?
In the event of an emergency, who can I contact?
Please contact the Mississippi State University Police Department (662) 325-2121 or the Office of Admissions (662) 325-2224 in case of an emergency.
May I bring a vehicle to campus?
Yes. Students are welcome to drive themselves to the conference. However, students will not be allowed to use their vehicles during the conference. Upon check-in, students who have indicated they are bringing a vehicle will be provided with a parking permit and asked to check their keys in with the S.P.A.R.K. team until the conference concludes.
What if I have a dietary restriction?
If a participant has dietary restrictions, they will be prompted to disclose this information during the confirmation process or email us at spark@msstate.edu
What if I have additional questions not listed on the FAQ?
Our contact information is spark@msstate.edu and (662) 325-2224 and we are available to answer any questions participants and/or parent(s)/guardian(s) may have.
What to bring and what not to bring.
What to Bring:
- Twin XL Bed Linens
- Pillow
- Blanket
- Comfortable Clothes
- Athletic / Walking shoes
- Khaki Pants (for banquet)
- Rain Jacket / Umbrella
- Toiletries and Towels
- Electronic Chargers
- Medications (if necessary)
- Spending Money (Souvenirs / Snacks)
What NOT to Bring: 
- Illegal substances
- Weapons
- Valuables / Items of Value
What type of clothing should I pack for the S.P.A.R.K. Leadership Conference?
Comfortable clothing and shoes are strongly recommended. Be mindful, it will be hot, and there will be time spent outside as we travel across campus for various activities! You are welcome to wear appropriate shorts/t-shirts/tennis shoes during your time on campus. You will want to bring tan colored jeans or khakis to wear during the closing banquet. Also, don't forget to bring a rain jacket or umbrella!
When and where will check-in for the conference take place?
Check-in will begin at 4:00pm on Thursday, and the conference will end at 3:00pm on Sunday in the designated residence hall lobby. This location will be provided to confirmed attendees prior to the conference. All participants must check-in by 6:30pm. Students will receive all S.P.A.R.K.-related items and room assignments then.
When is the S.P.A.R.K. Leadership Conference?
There will be two S.P.A.R.K. Leadership Conferences. The first session will be held on Thursday, July 13th through Sunday, July 16th and then a second session will be on Thursday, July 20th through Sunday, July 23rd at Mississippi State University in Starkville, MS. Your student can only sign up for ONE session to attend.
Will I be responsible for meals?
The conference provides participants with all meals and snacks during the duration of the conference.
Will I have a curfew?
It is mandatory that students are in the residence hall when S.P.A.R.K. activities are not in session. Rooms will be checked at a specific time every night to ensure students' safety. Residence halls will be monitored by university staff members and the S.P.A.R.K. team.
Will I have a roommate in the residence halls?
For S.P.A.R.K. to provide students with a complete college experience, attendees will have a roommate during the duration of the conference. Students will have the option either to select or be assigned their roommate. Communication regarding a preferred roommate will be accepted prior to the conference as roommate assignments will take place during check-in. Males and females will not share the same living space.